(SoCal International Softball Festival Champions Cup) 501 (c) (3) Organization
Jim Bollinger – T.D. - - - jbollin24@att.net or Susan Bollinger – co-T.D. - - - sbollinger24@att.net
The Champions Cup is an elite fast pitch softball showcase held annually in July of each year in Irvine, California. The best of the best are accepted by invitation and/or requests to participate from teams who are registered ASA with top national or local rankings, past successes in tournaments, and/or are often referred and recommended by college coaches to attend.
LA Times: Powerful storm to bring another day of rain to Southern California
July 20th 2015
An unseasonably powerful storm that closed Los Angeles County beaches because of lightning and washed out a vital bridge connecting shipping between California and Arizona will bring more rain Monday to Southern California. "It still looks like there's a chance of rain pretty much everywhere," said Stuart Seto with the National Weather Service. "Yesterday was probably the worst." view news article.
UPDATES: 1128am - July 19, 2015
Leaving at noon.  There are still Corona Angels, Batbuster, Firecracker, TeamSmith, Cal A's.. been up since 5AM..

please call if you are unable to come...
UPDATES: 747AM - July 19, 2015
WE ARE AT BILL BARBER STADIUM snack Bar NOW!!! COME GET YOUR HELMETS AND BATS!
UPDATE: 628AM SUNDAY JULY 19, 2015
It is with regret to inform you ...... THAT WE CANNOT  HAVE THE FIELDS READY - -- --
--CANCELLED --- CANCELLED -- CANCELLED -- CANCELLED --- -
-- JULY 19, 2015 -- AS OF 628 AM...  FIELDS UNPLAYABLE! --- 
IMPORTANT: 18U BRACKET UPDATES
(rev. 7/18/2015)  
 CHANGES    5:47 AM    SUNDAY    REV 3 071915
Due to rain, revision is made to single elimination bracket. Please CLICK HERE TO VIEW BRACKET
= - = - = SATURDAY - RAIN UPDATE - 255PM  30 MIN LIGHTNING DELAY -- Determination now on a contingency for tomorrow..
update coming -- = - = 
 - - - - SATURDAY - - - - JULY 18, 2015 - - 356pm - -  UPDATE - - - -
2pm saturday games have been rescheduled for sunday 9 am field and weather permitting.  We will be out at 6am to verify conditions and report.   The following rule changes will be in effect:  ALL GAMES WILL NOW BE PLAYED AS NO NEW INNING AT 40 MINUTES WITH GAMES BEING SCHEDULED ON THE HOUR.      An updated bracket will follow shortly tonight...
--  --  -- All teams with travel constraints or other issues, please email if not able to continue in bracket play for Sunday --  --  --
Bracket will remain as is with forfeit rule in effect for teams unable to continue on Sunday -- -- --  
Jim Bollinger - Tournament Director 
=======     Saturday, July 18, 2015   Today is the start of the single elimination process ... not without some administrative issues that we need to notify all of you participating in the 18u / Gold Champions Cup 2015.  First and Foremost, we thank you for your support and appreciate all the things you do for your team and each other for the love of the sport.
Some items of note:
Game 12, Saturday 8am Alton 3 will not be played.    Cal Thunder had issues with our tournament and determined that they would not participate this morning and WA Illusion-Mendez was awarded the win by forfeit 7-0 and advanced to play in the next game.
Game 40, Saturday NaWahine vs SC Rebels, the winner will play in Game 56 against Firecracker-Young (due to traveling conflicts to ASA Nationals FC-Young will not play this game) SoCal Strikkers (the fill-in team from Pool M who DNA do not advance will fill-in the spot) and play against the winner of Game 40 and that winner will advance to the next game as normal). We had some controversies regarding the "computer" making the seeding decisions because of our TieBreaking Rules and it went exactly as written, score .. all three tied, head to head, each team beat the other with no clear winner, Runs Against 2 teams were tied as the winner and eliminated the third winner, then it went to the Runs For and one became the winner... I am sure there will be lots of fun discussions over this and again welcome your feedback ...
Game 31, Courage advised us upon checkin that they were leaving Saturday morning and traveling to ASA nationals.  We were able to get the Cal A's organization to come to the rescue.  As a result of that Cal A's Iseri will be playing in Courage's spot Game 31… however, no matter the score, the team who is playing Cal A's will advance regardless if they win or lose as a forfeit.  
We hope you enjoyed and are enjoying the tournament and please support your snack bar folks Corona Angels-Marty at Harvard and Lower Peters and American Pastime-Farnworth at Bill Barber and Mark Daily/Alton.  Please also thank your Site Directors who are here because they love the sport.  As always we welcome comments to improve and will continue to try making this tournament your tournament of choice.  Feedback is welcome regarding the two NFCA camps we introduced July 13 and July 14 (Monday and Tuesday) and ..... how about the Chic-Fil-A... yummy or what ... Susan and Jim Bollinger - Tournament Directors =========
Tournament Rules Now Available!
7/2/2015
Important: Parking Instructions
Eight Teams to Participate in World Cup X in Irvine, CA
May 13th 2015
OKLAHOMA CITY – A record eight teams are set to take the field in Irvine, Calif. this June and July as they complete a 32-game schedule of the World Cup of Softball X the Amateur Softball Association (ASA) of America and USA Softball announced today. Hosted by Southern California ASA, Argentina, Canada, Japan, Mexico, Puerto Rico, Venezuela and both the USA Softball Junior Women's and Women's National Teams are scheduled to participate at Bill Barber Park, Deanna Manning Stadium this summer. more..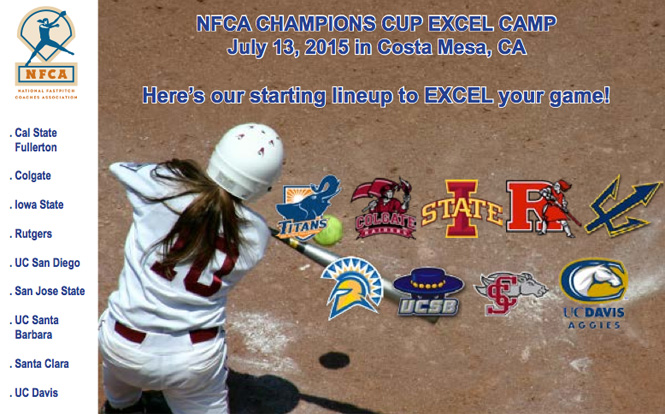 NFCA Champions Cup Academic & EXCEL Recruiting Camps

"Your Dreams Start Here"
For additional information, contact Susan Bollinger at sbollinger24@att.net
---
Academic Camp
---
Administered Camps
Every aspect, from the application and selection process to on-field administration, is handled by the NFCA staff. more details | camp application
---
EXCEL Camp
---
EXCEL Recruiting Camps
Application and payment process is handled by the NFCA staff. On-Field instruction done by collegiate coaches; staff varies per camp. more details | camp application

ASA/USA Tryout January 2nd 2015
ASA of America/USA Softball will hold open tryouts... more...
Managers Dinner – Keynote Speaker July 14, 2015
Tim Walton
Head Coach
Oklahoma '95
10th Season at Florida 2015 (13th as a head coach)

Tim Walton has established the Gator Softball program as a national powerhouse during his nine seasons in Gainesville. Under Walton's tutelage, Florida became the first Southeastern Conference institution in history to earn four consecutive Women's College World Series berths (2008-11). The Orange and Blue have made a total of six WCWS appearances since Walton's arrival in 2006, with three championship series appearances and the program's first national title in 2014. More...
2015 Tournament Forms
The 2015 14u, 16u & 18u/Gold Tournament is Full. Waiting list requires all paperwork Submitted with a check. We will contact you if a spot becomes available.
IMPORTANT: All applications must include: printed Online Registration Form, Competition and Hotel Agreements with check submitted to be considered. See instructions below:
Step 1: Fill in the Online Registration Form.

Step 2: Click "Submit Application".

Step 3: Click "Click Here to Print This Page".

Step 4: Download the other agreements, fill-in, sign and enclosed with a check with all the required forms.

Step 5: Mail all required paperwork with a check to:

THE CHAMPIONS CUP
265 Wake Forest Rd.
Costa Mesa, CA 92626
Any questions, please contact via email to: Susan Bollinger
J.O. Showcase 14U

July 10 - 12, 2015

Tournament Information

Roster & Wrist Band Forms

Competition Agreement

Hotel Agreement

Tournament Rules

Manager Meeting

J.O. Showcase 16U

July 9 - 13, 2015

Tournament Information

Roster & Wrist Band Forms

Competition Agreement

Hotel Agreement

Tournament Rules

Manager Meeting

J.O. Showcase 18U

July 15 - 19, 2015

Tournament Information

Roster & Wrist Band Forms

Competition Agreement

Hotel Agreement

Tournament Rules

Manager Meeting

2015 Scholarship

Scholarship Nomination
Scholarship Rules
The 2014 Champions Cup Scholarship Fund Winners
Coming soon..