(SoCal International Softball Festival Champions Cup) 501 (c) (3) Organization
Jim Bollinger – T.D. - - - jbollin24@att.net or Susan Bollinger – co-T.D. - - - sbollinger24@att.net
The Champions Cup is an elite fast pitch softball showcase held annually in July of each year in Irvine, California. The best of the best are accepted by invitation and/or requests to participate from teams who are registered ASA with top national or local rankings, past successes in tournaments, and/or are often referred and recommended by college coaches to attend.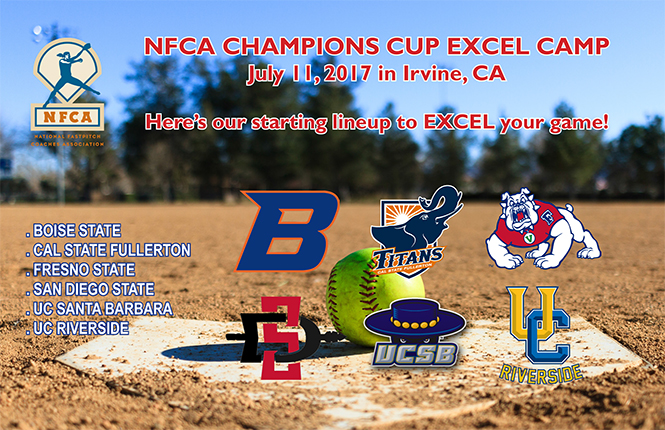 2017 Tournament Forms
The 2017 14u, 16u & 18u/Gold Tournament are open for applications. Please click on the Online Registration Form to start the process. DO NOT REGISTER UNTIL YOU ARE READY TO PRINT, SIGN AND RETURN TO THE ADDRESS BELOW WITH A CHECK.
IMPORTANT: All applications must include: printed Online Registration Form, Competition Agreement and Hotel Agreement if you are from out of the area, Manager Meeting if you want to attend the dinner and A CHECK to be considered. See instructions below:
Step 1: Fill in the Online Registration Form (make sure data is correct for contact purposes)

Step 2: Click "Submit Application"

Step 3: Read and sign Competition Agreement

Step 4: Read and sign Hotel Agreement if you are from out of the Area (schedule hotel stay one day prior to Game Day as games begin at 8:00AM)

Step 5: Read and sign the Manager Meeting Form if you are attending the Dinner, and add appropriate amount to the Tournament fee

Step 6: Sign a check payable to: The Champions Cup

Step 7: Payment with Paypal requires an additional $30 fee and direct contact with Susan Bollinger for an invoice and requires scanned or mailed paperwork.

Step 8: Mail all required paperwork including a check to:

THE CHAMPIONS CUP
265 Wake Forest Rd.
Costa Mesa, CA 92626
Any questions, please contact via email to: Susan Bollinger (sbollinger24@att.net)
IMPORTANT: 8 PM GAMES ELIMINATED IN POOL PLAY

J.O. Showcase 14U

Tournament: July 7—9, 2017
Hotel Stay: July 6—9, 2017

Tournament Information

Roster & Wrist Band Forms

Competition Agreement (Sign and submit with application)

Hotel Agreement (Sign and submit - Out of town teams only)

Tournament Rules

TBA

Manager Meeting

J.O. Showcase 16U

Tournament: July 6—10, 2017
Hotel Stay: July 5—10, 2017

Tournament Information

Roster & Wrist Band Forms

Competition Agreement (Sign and submit with application)

Hotel Agreement (Sign and submit - Out of town teams only)

Tournament Rules

TBA

Manager Meeting

J.O. Showcase 18U

Tournament: July 12—16, 2017
Hotel Stay: July 11—16, 2017

Tournament Information

Roster & Wrist Band Forms

Competition Agreement (Sign and submit with application)

Hotel Agreement (Sign and submit - Out of town teams only)

Tournament Rules

TBA

Manager Meeting

2016 Scholarship

Scholarship Nomination
deadline:Dec 1 2016
Scholarship Rules